In what is possibly the biggest rebrand in recent memory, Facebook has decided it will be known as Meta going forwards. While Facebook has historically been known as a social network, this is a shift to be known as a social technology company.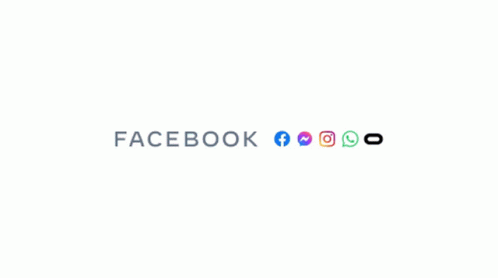 Meta is now the parent company that encompasses all of the apps and platforms which Facebook formerly was at the head of.
Today at Connect 2021, CEO Mark Zuckerberg introduced Meta, which brings together our apps and technologies under one new company brand. Meta's focus will be to bring the metaverse to life and help people connect, find communities and grow businesses. The metaverse will feel like a hybrid of today's online social experiences, sometimes expanded into three dimensions or projected into the physical world. It will let you share immersive experiences with other people even when you can't be together — and do things together you couldn't do in the physical world. It's the next evolution in a long line of social technologies, and it's ushering in a new chapter for our company.

https://about.fb.com/news/2021/10/facebook-company-is-now-meta/
While the company of Facebook itself is indeed rebranding as Meta, this is only at a corporate level. The company itself has not radically changed overnight, and the goliath of a social network that is Facebook will continue to be known as Facebook. In the same way Google rebranded to Alphabet, but Google is still the search engine known as Google.
Meta is now the company that owns the platforms of Facebook, Instagram, WhatsApp, Messenger and many more.
Why rebrand to Meta?
The word "meta" means beyond – and Mark Zuckerberg is no doubt hoping to take Facebook beyond it's current limitations. This is a move to take Facebook beyond the realms of Facebook and dip its toe into the new so-called "metaverse". Zuckerberg is looking to a future beyond smartphones and social networking. He is preparing the company for the next big thing, and ensuring they are at the forefront of whatever is coming in the virtual social world. This future does not lie in the now traditional social media app platforms.
While Facebook is a hugely popular platform and app all around the world, it is not without egg on its face. Its reputation has been dragged through the mud in many ways, whether that's by the relentless changes to the newsfeed over the years to the dismay of users, the impact it had in multiple political upsets, or all of the fake news and offensive material which continues to circulate on the platform.
All of that, plus Facebook is not really the "cool" place to be seen by the younger generations any longer. What Facebook (or Meta) does have in its arsenal is Instagram – which is arguably the most popular social platform for younger audiences.
Meta is now split into 2 arms – one focusing on the spine of the company which is Facebook, Instagram and WhatsApp. The other will focus on developing the fancy new metaverse. The new frontier.
What does Facebook's Metaverse have in store?
The metaverse is supposedly going to combine the online social spaces we inhabit today, and combine it with more engaging experiences, such as virtual reality, for a more immersive experience. Reality Labs is the arm of Meta which is involved in developing VR and AR (augmented reality) technologies.
The change means that the company will do what is best for Meta as a company, rather than the platform of Facebook.
Zuckerberg stated the following in his founder's letter:
In recent decades, technology has given people the power to connect and express ourselves more naturally. When I started Facebook, we mostly typed text on websites. When we got phones with cameras, the internet became more visual and mobile. As connections got faster, video became a richer way to share experiences. We've gone from desktop to web to mobile; from text to photos to video. But this isn't the end of the line.

The next platform will be even more immersive — an embodied internet where you're in the experience, not just looking at it. We call this the metaverse, and it will touch every product we build. The defining quality of the metaverse will be a feeling of presence — like you are right there with another person or in another place. Feeling truly present with another person is the ultimate dream of social technology.

That is why we are focused on building this. In the metaverse, you'll be able to do almost anything you can imagine — get together with friends and family, work, learn, play, shop, create — as well as completely new experiences that don't really fit how we think about computers or phones today.

https://about.fb.com/news/2021/10/founders-letter/
It has been no secret that Zuckerberg and Facebook has seen huge potential in the world of virtual reality. Facebook acquired Oculus some time ago, and this is simply another step to indicate they do see VR as the future of online socialising. Why ping over a few messages or video call when you can be sat next to an uncanny-valley avatar of your best buddies which are scattered around the globe?
While Facebook itself is still widely used, it is not new and exciting anymore. Facebook has the money in order to create the next big thing, or even buy out the competition. So this is a step towards creating the next big thing which is exciting and futuristic.
The question still stands whether Facebook will still maintain its place at the forefront of social media and messaging apps. Instagram was once a big concern for Facebook and a potential challenger, which Facebook simply purchased. Snapchat continues to be a big competitor, and while Facebook could not buy them out, they could copy basically every unique feature and implement it into all of its owned platforms to take the string out of Snapchat's tail.
We are yet to see what the future holds, but if you think about how far technology, social media and messaging apps have come in the past decade, who knows what 2031 has in store. If Meta is at the forefront of VR hangouts in a dystopian, social version of the Matrix is yet to be seen.
To find out more about what Zuckerberg and Meta has in store for us, check out the introductory video below: