Earlier in March 2021, Rand Fishkin of SparkToro posted an update claiming that in 2020, two thirds of Google Searches ended without a click.
From January to December, 2020, 64.82% of searches on Google (desktop and mobile combined) ended in the search results without clicking to another web property. That number is likely undercounting some mobile and nearly all voice searches, and thus it's probable that more than 2/3rds of all Google searches are what I've been calling "zero-click searches."

https://sparktoro.com/blog/in-2020-two-thirds-of-google-searches-ended-without-a-click/
The only issue with this is that "zero-click" searches includes people clicking a phone number or something else displayed in the SERP.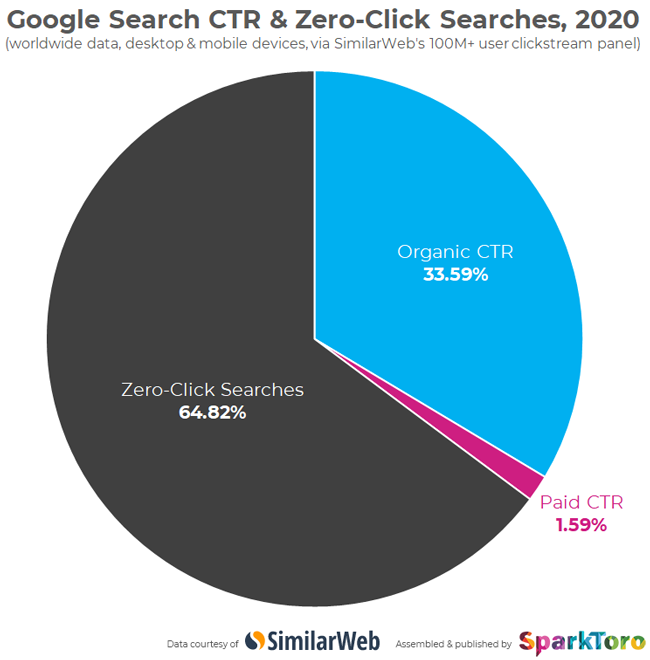 The data shows that out of 5.1 trillion Google searches in 2020:
33.6% of searches resulted in clicks on organic listings
1.6% resulted in clicks on paid search results
65% complete a search without a "direct, follow-up click to another web property"
Searches which lead to a click are higher on desktops – 50.8% organic CTR, 2.8% CTR
Zero-click searches are higher on mobiles – 77.2% of searches
As Google is a hugely dominant force in the world of search, it has positives and negatives for business. Search volume is growing on mobile and desktop, and organic clicks increased in 2020 after a plateau. As there are more searches occurring on Google there are more opportunities to gain customers through SEO and Paid Search. However, Google's dominance does mean it benefits by more people searching and spending time online due to the pandemic.
This revelations certainly caused quite a stir in the SEO community online.
Google has since responded, hitting back that it sends more traffic to the open web each year.
For starters, Google claims that:
this claim relies on flawed methodology that misunderstands how people use Search. In reality, Google Search sends billions of clicks to websites every day, and we've sent more traffic to the open web every year since Google was first created. And beyond just traffic, we also connect people with businesses in a wide variety of ways through Search, such as enabling a phone call to a business.

https://blog.google/products/search/google-search-sends-more-traffic-open-web-every-year/
But Google does go on to detail how people use search, and how this benefits websites and businesses featured in the search results.
Google explains that not every query results in a click to a website, and there are good reasons for this. These reasons include:
Reformulated queries – people do not always know how to word search queries, so may start broad and then make their search more specific. The initial broad search would then count as a "no-click"
People look for facts – if you search for the weather, current scores, currency conversions, the time or otherwise, Google provides this information directly, drawing from licensing agreements or Google's own tools
People connect with businesses directly – someone will search for opening hours and then drive to the store, reserve a table, place an order, or call a business directly from Google My Business.
People go straight to apps – if you search for a film, you may click a link going to Netflix which then opens the app
Google goes on to say:
We send billions of visits to websites every day, and the traffic we've sent to the open web has increased every year since Google Search was first created. Over the years, we've worked to constantly improve Google Search by designing and rolling out helpful features to help people quickly find what they're looking for, including maps, videos, links to products and services you can buy directly, flight and hotel options, and local business information like hours of operation and delivery services. In doing so, we've dramatically grown the opportunity for websites to reach people. In fact, our search results page, which used to show 10 blue links, now shows an average of 26 links to websites on a single search results page on mobile.

https://blog.google/products/search/google-search-sends-more-traffic-open-web-every-year/
So how does this all impact the average business simply looking to appear for relevant search terms and attract customers looking for their product or service?
For a start, a lot of how much of an impact this had depends on the industry you are in. For instance, travel agencies or websites collating reviews lose a lot of traffic to Google simpyl displaying the necessary information directly in the SERP. We saw this before with something as simple as music lyrics – Google began howsing lyrics in the search results, and so the people running the multitude of lyrics websites saw a colossal drop in traffic overnight. This benefits the user as they do not need to take another action, but it does little for the open web.
Search volume has increased, which means there are more opportunities for businesses to gain customers from Google. Optimising your site for featured snippets and adding schema markup to your site may also help more people find your brand, as you will be more visible in the search results.
At the end of the day, unless you are in an industry which is directly impacted by Google providing answers directly in the SERPs, you need to remain focused on ranking for terms relevant to your business, and investing in paid search campaigns which generate you results. There are more people than ever searching online, and this will likely continue to ramp up for the forseeable future. No doubt how people search will continue to develop, with more people using voice search and other methods, but there will always be an opportunity for businesses to find an audience on Google unless something drastically changes.
Whether Google needs some form of intervention and/or antitrust legislation, is a debate for another time.
If you are in need of a helping hand online, read more about our SEO services or our PPC management services, or simply get in touch to discuss what you are looking for.